Choose your language
Wählen Sie hier Ihre Sprache aus
Selecteer hier uw taal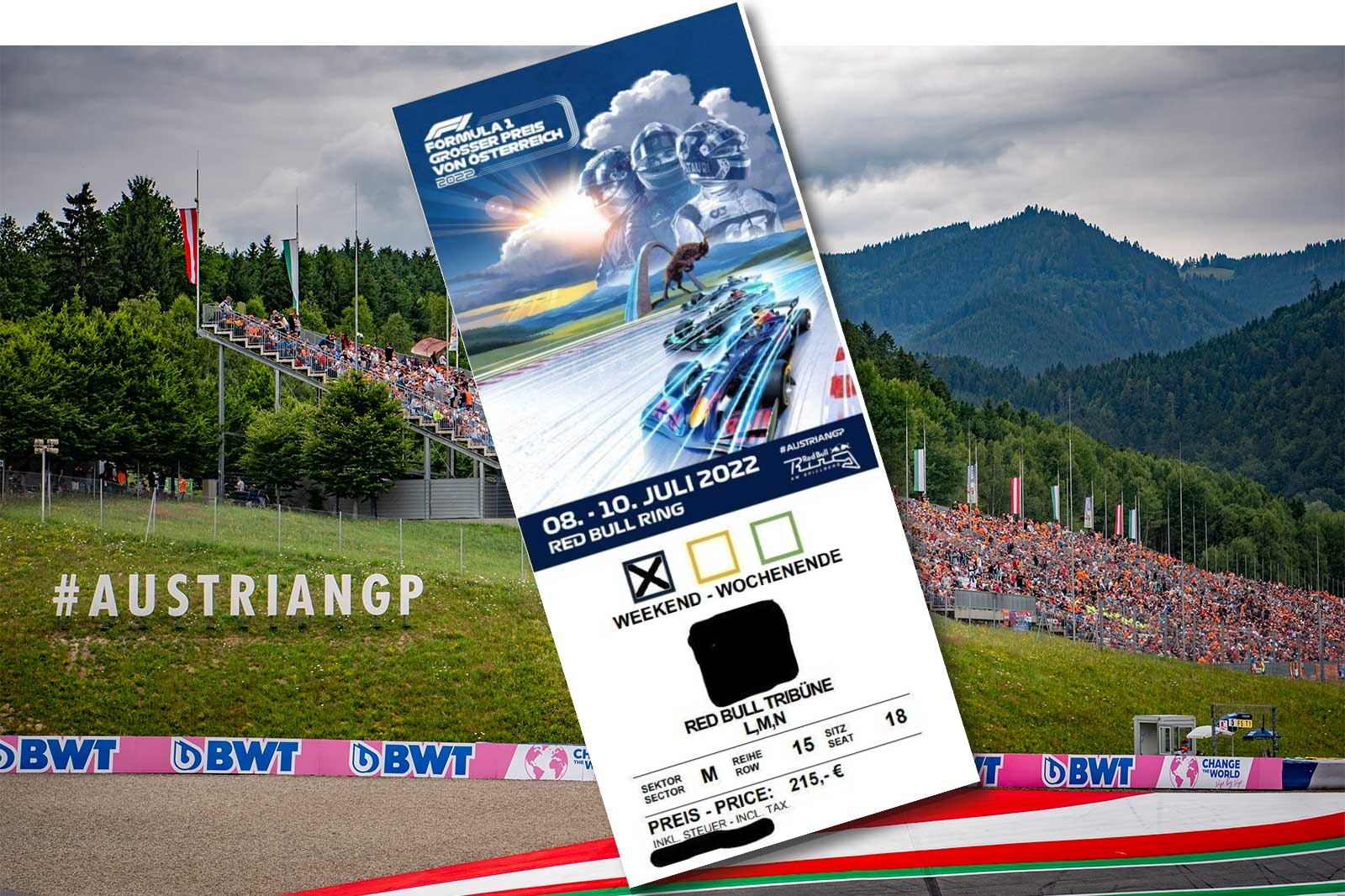 Formula One Tickets
Formula One is currently experiencing a real boom. The exciting 2021 season finale between Max Verstappen and Lewis Hamilton captivated many new and old fans. It wasn't as close in 2022, but the grandstands were usually full. The excitement ahead of the 2023 Formula 1 season is correspondingly great. Formula 1 tickets are once again a must for all motorsport fans. In order to experience the premier class on site, it is advisable to get tickets several months before the race event. There are various ways to get tickets, as well as different packages ranging from a single free practice session to exclusive VIP tickets for an entire weekend. Of course, the prices are also completely different. Here we give you information on how to buy a Formula 1 ticket 2023 as well as an overview of prices and offers.

Where to buy Formula 1 tickets?
Probably the easiest way to buy tickets is on the official website of the Red Bull Ring.
https://www.redbullring.com/de/events-tickets/

In addition, there are various ticket shops that also offer official and legal tickets for Formula One. Tickets for each race weekend are offered at the following websites:

www.gpticketshop.com/de/f1
www.verstappen.com/tickets/austrian-gp


If you don't want to buy tickets online, you can also buy them the old-fashioned way on site. This option is particularly suitable for a spontaneous visit to the race, but the tickets are usually more expensive because any advance booking discounts are not applicable. In any case, it is advisable to find out in advance whether tickets are still available for the race weekend. Usually, only day tickets for Friday or Saturday can be bought on site.

What are the ticket prices for the Austrian Grand Prix in Spielberg?

Formula 1 ticket prices vary greatly depending on the circuit and ticket type. As a rule, classic circuits like Spielberg offer numerous standing room tickets, which are usually significantly cheaper than grandstand tickets. At the Austrian Grand Prix, for example, standing room tickets are free to watch on Fridays. For a seat in the grandstand you pay 69€. A ticket for the race Sunday costs from 90€ (standing room) to 490€ (Styria grandstand). Tickets for the entire race weekend from Friday to Sunday are only incomparably more expensive: in Spielberg they range from 105€ to 545€. The grandstand prices vary greatly depending on the section of the circuit. If you want to sit directly in front of the second straight in Spielberg, for example, you have to pay more than in the curvy second sector.

The Austrian Grand Prix is one of the cheapest on the 2023 Formula 1 calendar, but at some, especially newer, race venues you have to dig deeper into your pockets. The season finale in Abu Dhabi is traditionally expensive fun. Those who want to attend the floodlit spectacle have to pay up to €1299 for a weekend ticket. It is particularly advisable to decide early to buy a Formula 1 ticket. The general rule for all races is: the later you want to get a ticket, the more expensive it will be. If you get there early, you can buy Formula One tickets cheaply.

And after buying tickets, the most important thing is accommodation. For the Formula One Grand Prix in Spielberg, the Schitterhof CAMPING WEISS is one of the best and most popular addresses for F1 campers. Here you will find the best performance at the best price for your camping weekend.