Choose your language
Wählen Sie hier Ihre Sprache aus
Selecteer hier uw taal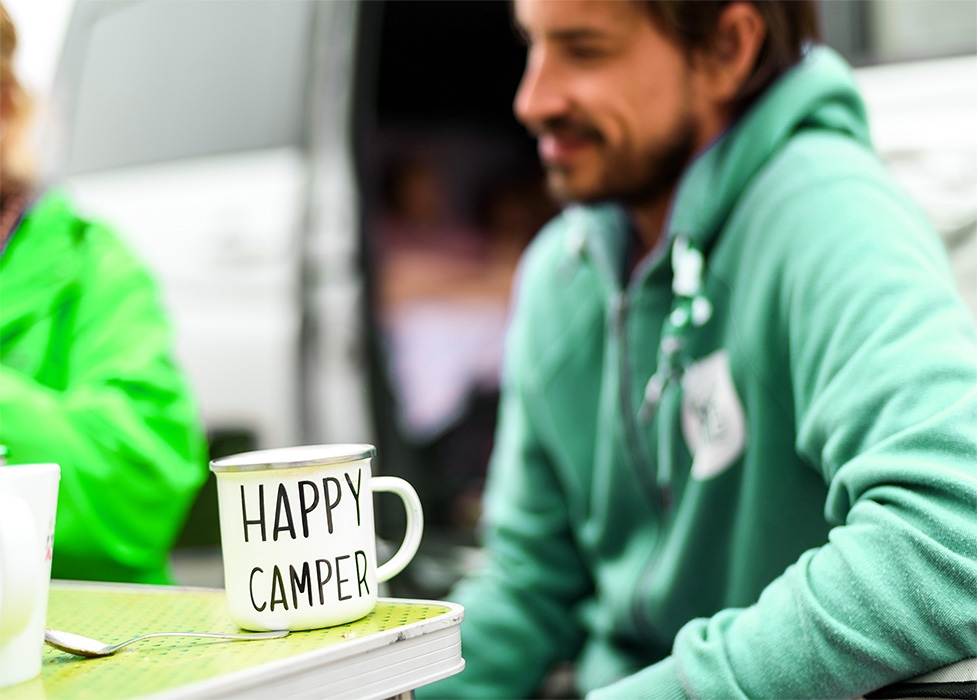 Many campers who want to come to Spielberg for the Formula 1 GP for the first time are amazed at the prices of camping sites. When browsing camping websites, some people come across "pink offers" that leave them speechless. For a family of 4 in their own large caravan, arriving on Wednesday and departing on Monday, a price of Euro 1,300 is being asked. Many have already had their negative but also positive "Camping Spielberg experiences". Of course, many people ask themselves: "Why is that?"

The explanation is simple and sobering:

The Formula 1 GP at the Red Bull Ring in Spielberg is completely sold out every year, mainly due to Max Verstappen's outstanding performance. Many tens of thousands of enthusiastic Dutch people want to see their Max win at the Red Bull home track and make the pilgrimage to the small town of Spielberg in their camper vans and caravans in the summer. Around the Red Bull Ring, there are about 10 event campsites that only open during significant events. By the way, these campsites are marked by colour codes. From CAMPING WHITE to BLACK, pretty much all colours are assigned to a camping site. 

The reason for this is the enormous demand for camping sites, especially with functioning electricity, for an average of only 3 to 4 nights at a major event. The capacities of suitable meadows with the corresponding infrastructure are very limited. Setting up electricity, water, sewerage and sanitation infrastructure for just one weekend is very expensive. All this is included in the price of the pitch. 

There is no such thing as a cheap campsite. But there is the affordable campsite!

The prices for a pitch within a radius of 1 km from the race track start at most campsites for 2 persons/4 nights at a little over Euro 300,- and can go well over Euro 1,000,- if there are a corresponding number of persons and days. However, there are also differences in the quality of the infrastructure at the campsite, the size of the site and the expected noise level at night.

Since there are improvements (but also deteriorations) at the various campsites every year, it is difficult to make a concrete statement. Reviews on Google at least give an indication of what positive comments and also criticisms guests have made about the individual campsites in recent years.

When choosing a campsite in Spielberg for F1 and MotoGP, the following criteria should therefore be taken into account:

- In which zone is the campsite located? Is it noisy or rather quiet there at night? As a rule of thumb: the closer to the race track, the louder it is at night.

- What is the electricity supply like? What power (how many amps) will be provided for my pitch? There are theoretically enough sockets on some pitches, but the mains regularly break down under the load. 

- What is the environment like? Do I tend to have loud party people on the pitch or guests who also value keeping the peace at night? 

- What size is my pitch? Standard pitches are often only 30 m2. Some campsites, such as Schitterhof-CAMPING-WEISS, also offer pitches with a generous 48 m2 at a reasonable price. These large pitches are ideal for motorhomes with an awning or for guests arriving in a van and bringing a large tent. 

The conclusion to the question "Camping Spielberg F1 prices" is: You can very well book inexpensive campsites around the Red Bull Ring, such as the Schitterhof-CAMPING-WEISS. However, cheaper campsites for the Formula 1 weekend are only many available kilometres away from the Red Bull Ring. But this means that you have to travel to the Ring site every day by car, which means waiting in traffic jams and having to buy your own parking ticket. That's only partly fun!

Discover the perfect accommodation for your F1 camping adventure in Spielberg. Our campsite offers spacious pitches and easy access to the Red Bull Ring. Book now!